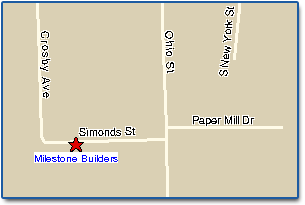 We thank you for visiting the web site of Milestone Builders, and hope that your exploration of our pages has been helpful in your search for trustworthy builders. If you're still not convinced about the benefits that our builders have to offer, than you are certainly invited to give us a call. Our representatives are ready to prove to you what makes our business truly shine, and we're always willing to answer specific questions to the best of our ability.
Don't miss this opportunity to build an incredible foundation with our successful business. Consult with us today! For directions to our location please
CLICK HERE
.
Milestone Builders, Inc.
39 Simonds Street
Lockport, NY 14094
Phone: (716) 438-1156
Fax: (716) 438-1153
E-mail:
milestonebuild@aol.com