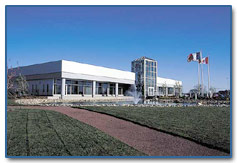 Innovative Industrial & Commercial construction is our business and pride, here at
Milestone Builders
. We specialize in the Design- Build method of construction, with a standard of excellence that simply cannot be matched.
Our professionals are well equipped to handle any obstacle or expectation either conventionally or through the incorporation of our exclusive Pre-Engineered Building System.
Milestone Builders
is exceptionally well equipped to handle any obstacle or expectation. No matter how hectic your situation is, we'll find a way to get the job done efficiently and cost effectively. Call us today for more information, and you'll soon realize why we're one of the best at what we do.
Our Mission: To Establish Continuing Relationships...
It will always been our goal to establish long-term working relationships with our customers. Given the competitive working environment of the construction industry, we know how important it is to set ourselves apart from the rest of the field. That is why we will continue to achieve this distinction. It is simply more important to us that an owner is satisfied at the end of a project than whether we, as a company have met our bottom-line objectives. We believe that a loyal customer base can only be enhanced with such a philosophy.